Property 10 from 16

Next property

Previous property

Back to the overview
Wiesbaden: Gewerbeliegenschaft mit Einzelhandels-, Büro- und Lagerflächen
Property ID: 1936
Address:
65205 Wiesbaden
Hessen
Space to rent ca.:
8.876 sq. m.
Type of object:
Miscellaneous
Year of construction:
1996
Subject to commission:
yes
Commission Rate:
5,95 % inkl. MwSt. vom beurkundeten Kaufpreis
Quality of fittings:
Regular
Rental income p.a. (target):
820.000 €
Rental income p.a. (actual):
734.933 €
Number of parking spaces:
70 x Outside parking space
Type of heating system:
Gas
Walking distance to public transport:
5 Minute(s)
Drive to nearest rail station:
10 Minute(s)
Drive to nearest motorway:
2 Minute(s)
Drive to nearest airport:
17 Minute(s)
Property description:
Auf der Liegenschaft befindet sich ein zweigeschossige Büro- und Servicegebäude mit einem Vermietungsstand von knapp 90% sowie 4 Einzelhandelsfläche, welche voll und langfristig vermietet sind.

Detaillierte Informationen, wie beispielsweise Mieterlisten, Verträge etc. erhalten Sie auf Anfrage.
Location:
Die Liegenschaft befindet sich in attraktiver und stark frequentierter Lage im Gewerbegebiet Wiesbaden-Nordenstadt. Im Umfeld sind diverse Einzelhandelsunternehmen ansässig.

In der Nähe befindet sich die Autobahnauf und -zufahrt Nordenstadt; zur Bundesautobahn A66 sind es ca. 2 Minuten. Von der A66 aus ist sowohl die A3, als auch die A671 und somit das gesamte Rhein Main Gebiet schnell zu erreichen.
Commission Rate:
Unsere Nachweis- bzw. Vermittlungsprovision beträgt bei Abschluss eines notariellen Kaufvertrages 5,95 % des beurkundeten Kaufpreises inkl. Mehrwertsteuer. Die Provision ist bei Vertragsabschluss fällig.
Remarks:
Irrtum und Zwischenvermietung bzw. -verkauf sind vorbehalten. Für die Richtigkeit und Vollständigkeit der Angaben übernehmen wir keine Haftung.

Bei weiteren Fragen oder zur Vereinbarung eines individuellen Besichtigungstermins können Sie uns gerne telefonisch unter 069 - 173 269 390 oder per E-Mail unter info@vvimmobilien.com kontaktieren.
General business conditions:
Wir weisen auf unsere Allgemeinen Geschäftsbedingungen hin. Durch weitere Inanspruchnahme unserer Leistungen erklären Sie die Kenntnis und Ihr Einverständnis.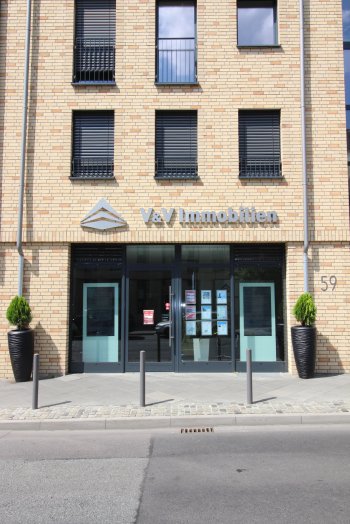 Back to the overview